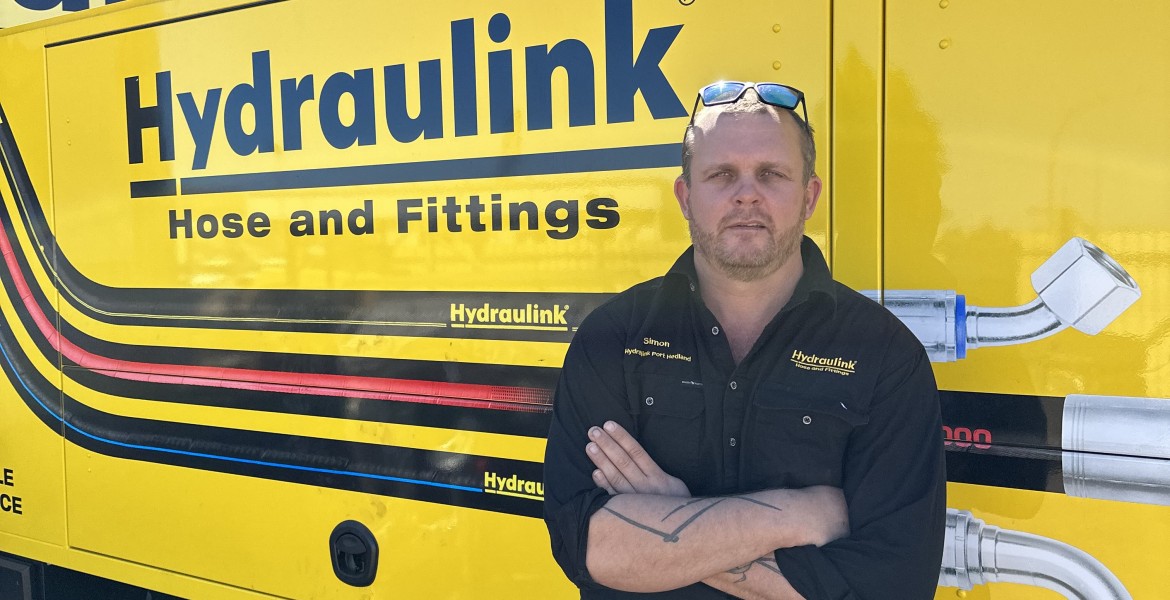 Highly mobile Hydraulink Port Hedland established to extend top 24/7 hydraulic hose service in WA's Pilbara
Jul 31, 2023, 3:34 PM
Highly mobile Hydraulink Port Hedland established to extend top 24/7 hydraulic hose service in WA's Pilbara
A man with a family tradition of self-reliance and service to far-flung business across Western Australia, Simon Tiller, has opened a new Hydraulink hose and fitting service business in Port Hedland.
The new franchise – which complements expansion by Hydraulink and Hydraulink CCR in other parts of Western Australia – will operate 24/7, with mobile service and an established and experienced team at HQ in the town, which is a service centre for industries such as resources, transport and vast pastoral businesses.
"Some of the big businesses up here are the size of cities and countries elsewhere, and they are crying out for experienced people who will put in the hard yards to travel out to where they need you, to keep their expensive equipment productive and safe," said Simon, who learnt the value of service from his Dad, Bill, who is also a Director of Hydraulink Port Hedland and its team of four experienced staff.
Simon, a diesel fitter by trade, originally teamed up with his tradesman Dad in a transport and machinery service company servicing WA businesses, particularly those operating over the vast expanse of the Pilbara, which, at more than 500,000 km, is more than twice the size of the entire United Kingdom (243,610 km).
"Of course our business was and is centred on the area around Port Hedland, but it is still a far-flung area where big clients like miners, pastoralists and transport operators don't always have the luxury of being able to come into town to keep their machinery up to the highest standards of compliance and reliability.
"As a local for more than 20 years, I understand that they need you to come out to see them to keep their operations turning over with the greatest cost-efficiency. All machinery – transport, agricultural and mobile and static mining and resources equipment – depends on reliable hydraulics - otherwise it just won't function.
"So Dad and I saw an opportunity for a long time to open a top-class hydraulic hose and fitting business. But we needed to find a good match for our can-do and thorough service philosophy, which didn't happen until we heard about Hydraulink."
Hydraulink – a company with a quality reputation founded on 70 years of Australasian business - is boosting the scale and scope of its operations in Western Australia, through operations such as Hydraulink Port Hedland and with the complementary acquisition of CCR Hose & Fittings, to form Hydraulink CCR.
The scaling up in WA expands the network's overall service offering to the resources sector and broader WA industry, including 24/7services through an expanded mobile service fleet, and, through Hydraulink CCR, greater FIFO capability, and on-site containerised workshops that can be placed virtually anywhere to lift uptime.
Hydraulink's extensive national network includes 14 company-owned sites in Australia, 135 network partners, and 150 service vehicles offering 24/7 onsite and mobile services to the same high levels of outstanding service, safety, standards compliance, traceability, and diverse machinery and equipment knowledge.
"Hydraulink is certainly growing a reputation as a quality provider, which gives excellent ongoing training, support and strong supply of quality product. They are a great fit for a go-ahead company such as ours, which shares the understanding of the premium business out here puts on service.
"It is no good to them if some supplier closes for most of the weekend, when they need service now," said Simon Tiller, whose new operation recently landed its first contract with one of Australia's major miners. It has also won business in areas where service and safety is at an absolute premium, including airport facilities telephonic communication facilities, and transport and logistics work.
"You have to be versatile out here. One day you might be doing forklifts and telehandlers, and the next day you might be out on huge equipment at a big mine - or on one of the huge pastoral properties around here.
"At times like these, it is good to know you have the backing and resources of a major network behind you that delivers the same global standards over multiple sites. This is a major benefit for the businesses we service – a great reassurance that they are getting the local service they need; with the global standards they demand."
Hydraulink National Franchise Manager Wayne Abbott said WA industry needs self-starters and practical people - competent and versatile tradesmen such as Simon and his team, who don't waste business' time learning on their job at their expense.
"Rather they can get out there quickly and on the job sooner to service machinery they know about and getting things done properly to avoid downtime .
Service and consistency are what builds relationships and trust – being able to deliver uniformly high quality standards of value, compliance, traceability and knowledge of different site protocols, different machinery and working in true partnerships with clients. .
"Our philosophy, which is earning us the respect and partnership of good operators such as Simon, it to provide deep value for clients, protecting their investment in machinery and giving it the best reliability and uptime that the industry can deliver."