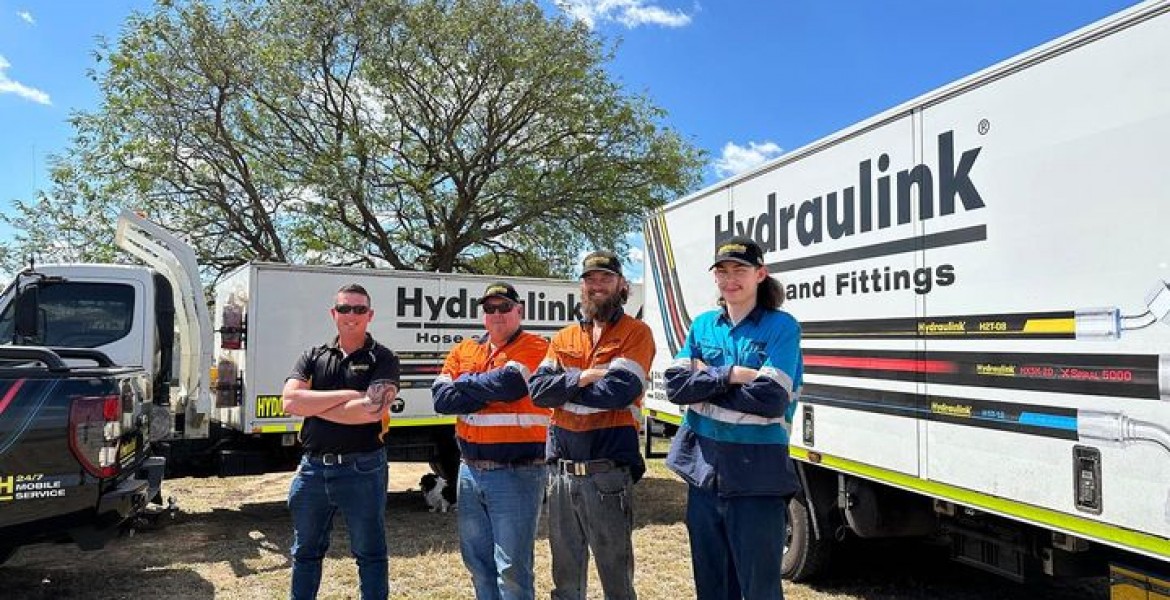 Self-help Queenslander Luke stakes his claim to the future with new Blackwater Hydraulink
Sep 8, 2023, 12:46 PM
Self-help Queenslander Luke stakes his claim to the future with new Blackwater Hydraulink
A practical and versatile Queenslander who understands the prompt and professional service needs of mining, infrastructure and heavy haulage operations in the State's central west is joining the national Hydraulink hydraulic hose and service network with his own franchise in Blackwater.
Lucas Kelly – who was born in Blackwater – has built up wide and varied experience servicing the hydraulic hose and fittings needs of both large and smaller businesses over 17 years in the coal mining and primary industry centre 160km west of Rockhampton.
"We are a close-knit community out here, which values prompt and personal service. People relate strongly to other people in this community – they would rather deal with someone local they know, who is capable and hands-on, rather than shopping around for an anonymous brand, says Luke (or Lucas – he doesn't stand on ceremony).
"We are a friendly and hard-working community, with very high standards of work and business ethics, which rewards personal high standards of service and initiative," says Luke, who was attracted to Hydraulink because of its can-do ethos with a strong network offering national support and outstanding training to local businesses. He also likes the family-oriented approach of the network, in which business owners support each other and which encourages local community involvement, such as Luke's presidency of the local speedway club.
"My wife and I and our three children have a strong stake in the local community, and I am at a time of life when I want to expand that. After investing in a workshop and big mobile service vehicles (8.5 and 10.5 ton), and employing a local good operator, I wanted to take the next step in my life plan and build a better future.
"I identify strongly with the Hydraulink family of businesses throughout Australia, which bring world standards of product quality, training, and support to local businesses. High standards are very important to businesses out here, including particularly the big open-cut and underground mining operations which absolutely require world-class product quality and work – safety and compliance are top of their list. Plus, you have to be mobile and well equipped to respond quickly to a huge diversity of needs.
"Out here you have to have good machinery knowledge and be versatile, because you don't know if the next callout will be to service a big dragline or a little Dingo digger. You need to be mobile and available for callout, as well as having a good workshop in town, because often you have to go out to the customer and save their time and money by helping them to get their expensive machinery back into operation as soon as possible."
Luke says this broad local experience of hands-on work and self-improvement fits well with Hydraulink ethos of "Best Under Pressure," with a strong commitment to Standards compliance, quality, training, and value over more than 400 service points across Australia and New Zealand, servicing both mobile and static machinery in which reliable hydraulics are vital.
"I love the variety of work, but after years of doing it as a sub-contractor, I reached the time of life when I wanted to build something for my own future and my family's future. Both my Dad and my late father-in-law, who was from the Mount Morgan mining area, were self-employed and self-starters. They often asked me 'Why don't you do this for yourself? Take the next step, be in charge of your own destiny and build up something for yourself and your family".
"My former employer, Mark Bogle, taught me a lot about self-reliance before he retired from the business, so I thought about it a lot – but it wasn't until I got chatting with Hydraulink that I found a great dynamic brand that was growing strongly and backing people like me – it is a great fit."
Hydraulink Australia Franchise Manager, Wayne Abbott, says family-operated franchises such as Luke Kelly's are a major benefit to clients because they have their operators have the strongest personal stake in the business to ensure ongoing satisfaction and enduring partnerships.
"People like Luke are a bedrock of our service-focus. Hydraulink provides these good operators with outstanding training and continuing education to ensure that franchise operators can flourish as business operators in their own right as they expand their future in their communities by building enduring value and trust."